For nearly 40 years, Dale Gruber Construction has worked closely with residential and commercial clients on construction projects of all sizes and scopes. Our unmatched team dynamic stems from our shared commitment to a job well done and to demonstrating integrity at all times. Check out what the DGC team has been working on lately.
Metro Sales, Inc.
Dale Gruber Construction recently remodeled the exterior and interior of the Waite Park building, the new home of Metro Sales, Inc. We updated the exterior by modifying the accent entrance walls, fresh new paint colors and new awnings to create a polished, modern look.
The interior remodel involved building a demising wall to separate the space into two suites. Metro Sales new office is 4,880 sqft and consists of a large display & demonstration room, two conference rooms, four private offices, two open office areas, break room, wellness room, bathrooms and garage. Metro Sales offers printing, IT solutions, document automation and management services. Learn more.
The adjacent suite is available for lease – nice visibility, parking and great neighbors & landlords. Contact Mark Williams 320-492-0599 or Lee Hansen 320-250-5529.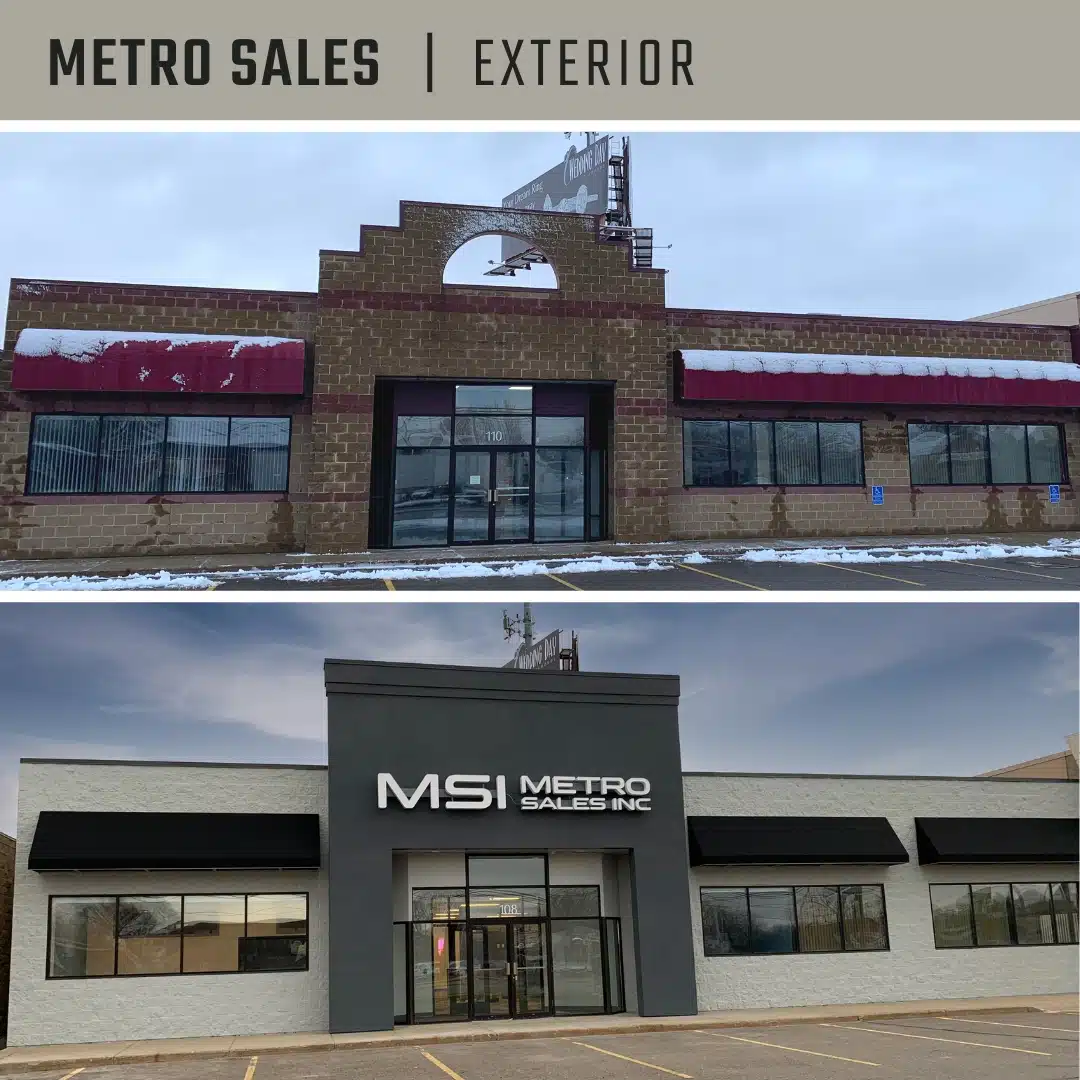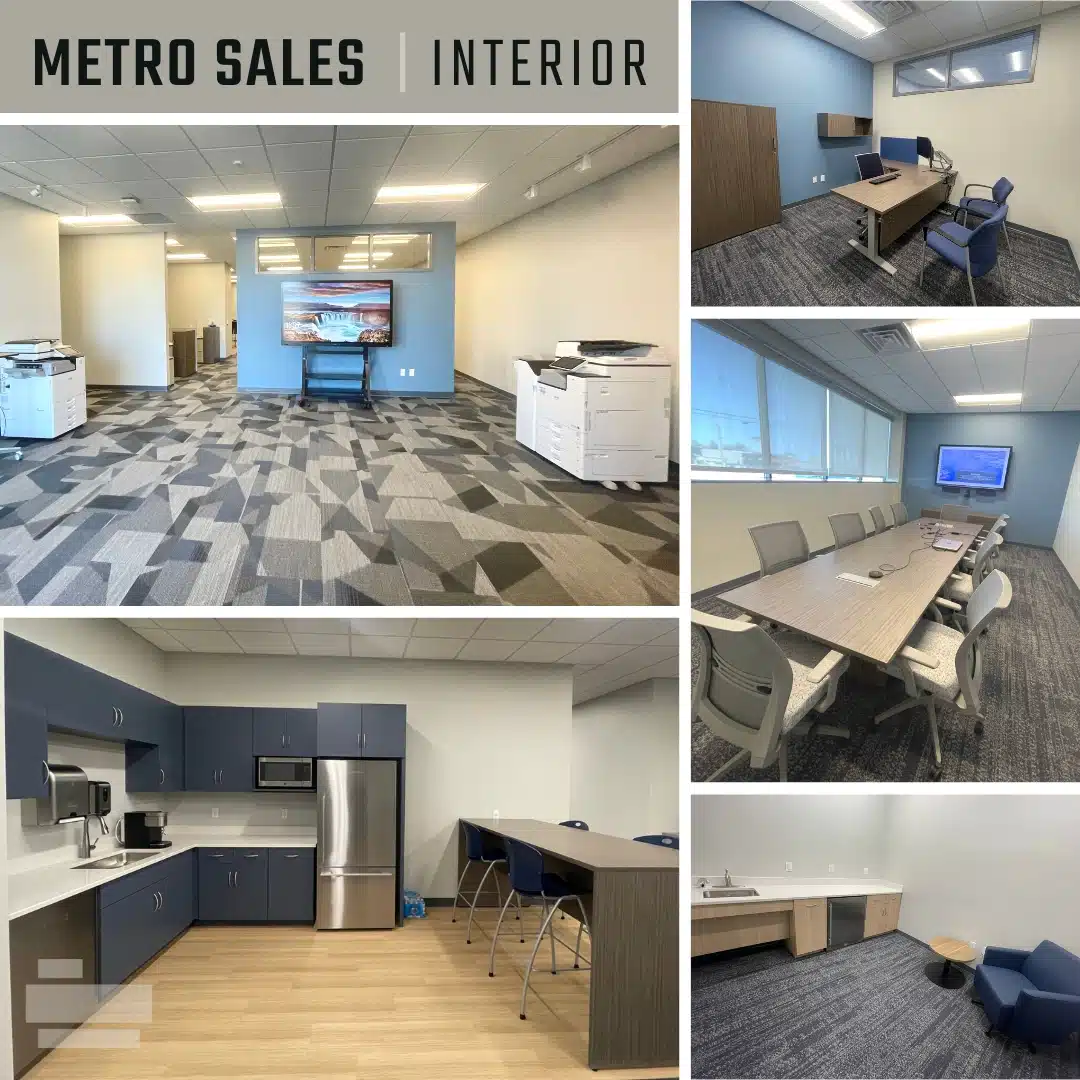 Short Elliot Hendrickson, Inc. (SEH)
Our team had the pleasure of partnering with SEH on their office buildout project in the Northwest Professional Building in Sartell, MN. Dale Gruber Construction actually remodeled the 3rd-floor suite for the previous tenant, so we were familiar with the space. We first divided the expansive suite by constructing a demising wall. The 8,158 sqft TI project consisted of 13 private offices, front reception, two conference rooms, training room, break room, reference material room and several open office spaces. We updated the space with new LED lights, state-of-the-art data wiring, carpet tile, paint with colored accent walls, acoustical ceilings and a multi-temperature controlled HVAC system for optimal comfort – creating a nice office space that fits the SEH team's needs. 
SEH is an engineering, architectural, environmental and planning company. Learn more.
Kitchen Remodel
As a design-build contractor, we enjoy being part of the entire process — from concept to completion. For this kitchen remodel project, we worked with our client to draft plans, select finishes and build their dream kitchen. By removing the existing wall that separated the kitchen and dining room; we created an open-concept space that overlooks a nice wooded backyard. The new kitchen layout features a large custom-designed kitchen island, coffee bar, double oven, glass top stove with range hood and lots of cabinets for storage. Selections include: painted raised panel cabinets, granite countertops, ceramic tile backsplash, glass pendant lights, brushed nickel hardware and medium-tone wood grain LVP (great flooring for pets!).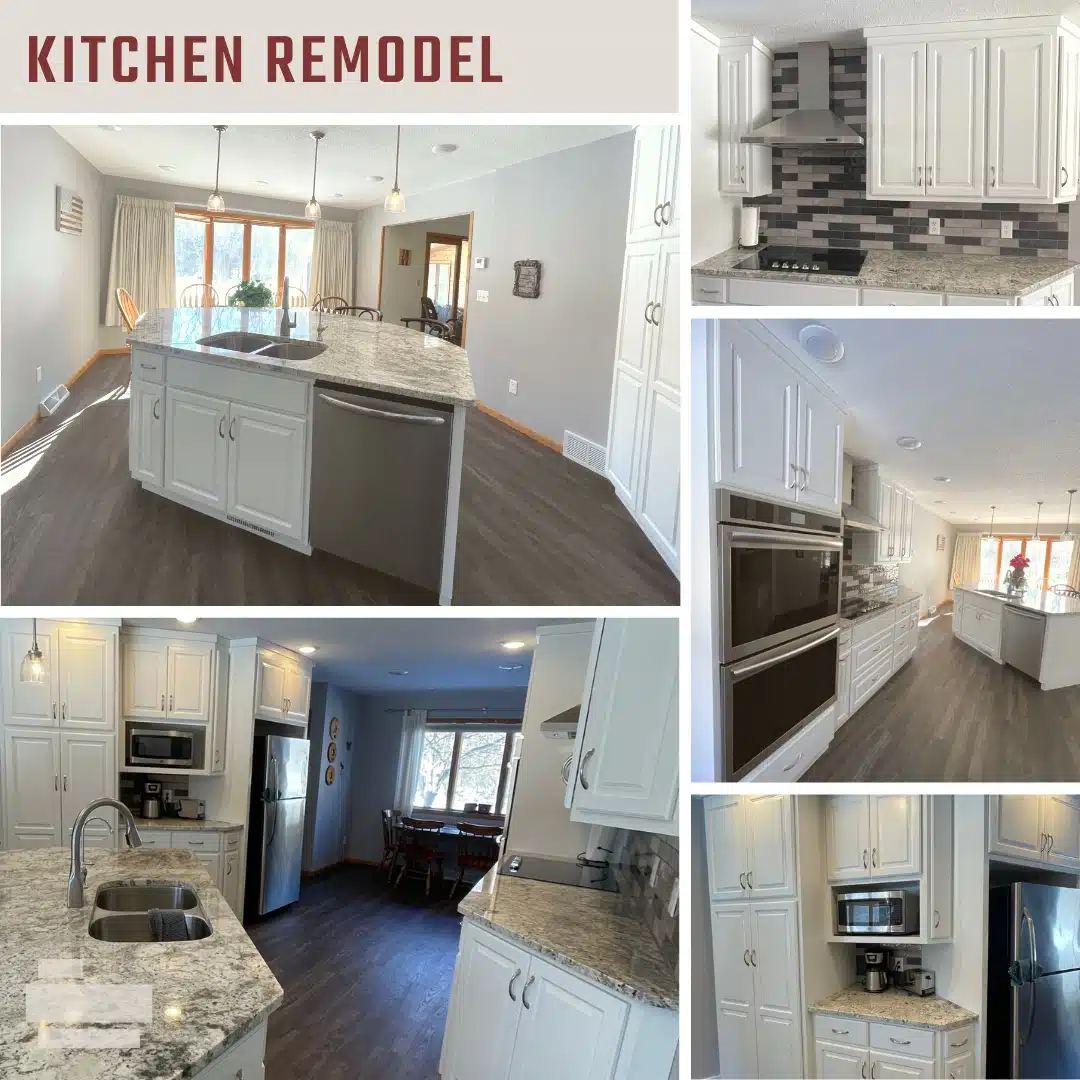 Bathroom Remodel
We greatly appreciate repeat clients and referrals — it is the ultimate compliment! Almost 15 years after completing home improvement projects for our client, she contacted DGC to remodel her bathroom in the home where she currently resides. Our team updated her bathroom with a new custom vanity & linen cabinet serving as the focal point; featuring quarter-sawn oak, cultured marble top, and farmhouse sink. We installed a new shower surround with Venetian bronze shower fixtures, mirror, light fixtures, and new LVT flooring to complete the transformation!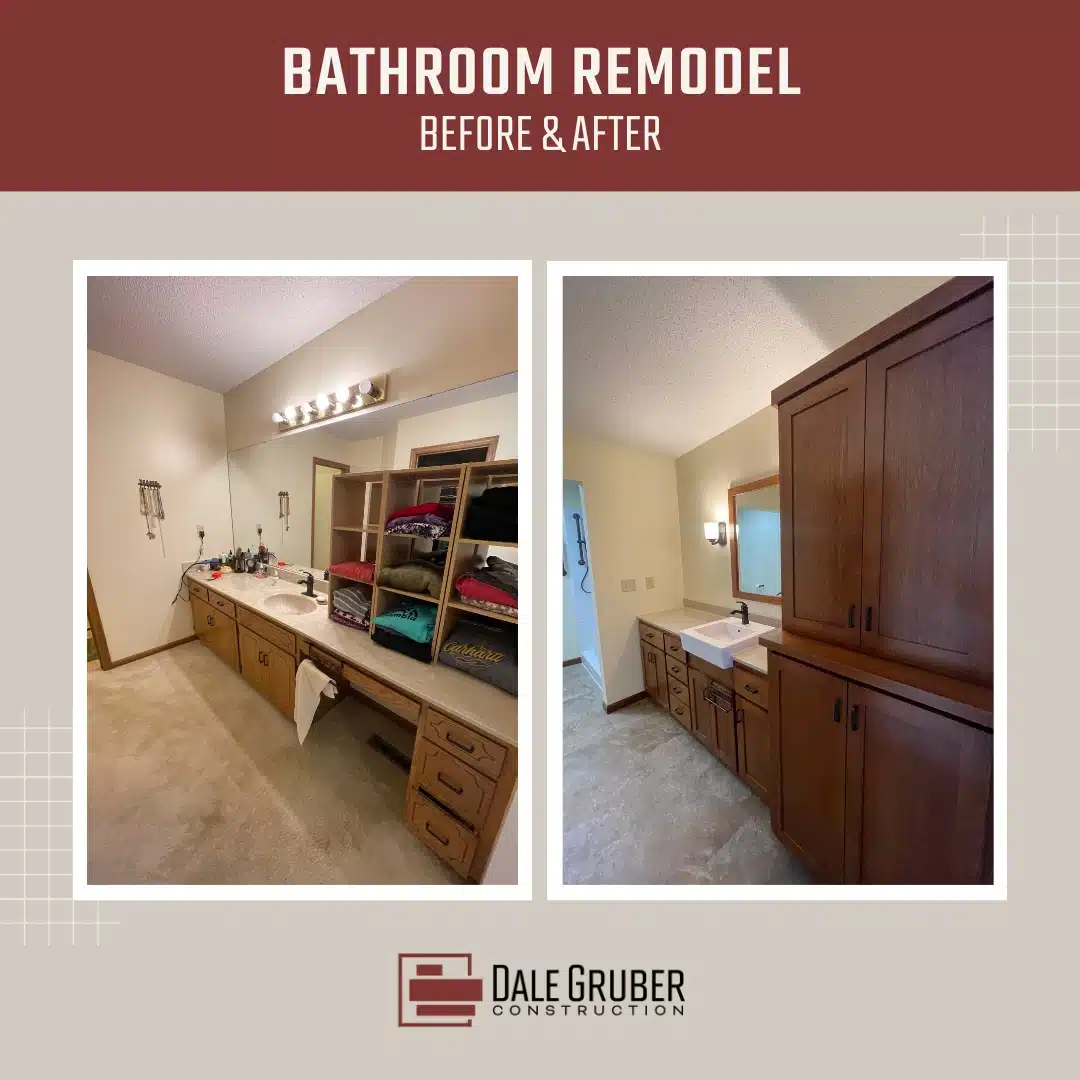 Welcome to the DGC Team, Grant & Nikki!
We're excited to welcome back to the Dale Gruber Construction team, Grant Heglund! As Estimator & Project Manager, Grant brings exceptional attention to detail and focus on client experience to his remodeling projects.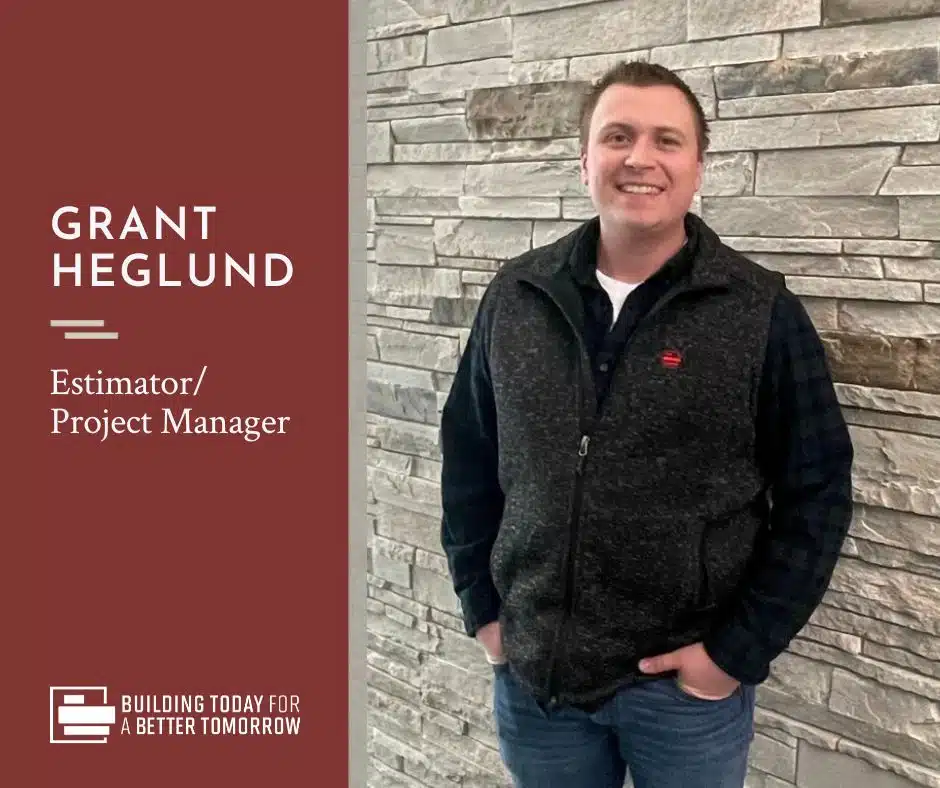 Please join us in welcoming Nikki Juntunen to the Dale Gruber Construction team! Nikki brings her passion for the building industry and superior organizational skills to her role as Office Manager, assisting our team and clients.