Do-it-yourself (DIY) home improvement projects…as a professional remodeler, we have mixed views on the subject matter. On the one hand, we love to see interest and excitement in the building industry. We also understand how rewarding it can be to tackle a home improvement project – seeing it through from start to finish. It's one of our favorite aspects of the work we do. On the other hand, as experienced contractors, we know first hand the complexity of many home improvement projects and their required time and skillset. We admit, we have super high workmanship standards, but we simply like to see projects done right and well.
We recently came across a couple articles on the topic of DIY projects that caught our eye.
Study Reveals DIY Projects Most Likely to Fail
This article from Remodeling Magazine, features a study conducted by ImproveNet on DIY projects. Reports from the study include common DIY projects, reasons for deciding to DIY and the result of the DIY project. Of those surveyed, 63% regretted one of their DIY projects and one third of the homeowners who tried to remodel their home, called a professional to fix. Of the respondents, 56% opted to do the project themselves to save money. In the end, 55% said the project took longer than anticipated and approximately 50% found it both physically and technically harder. The most popular reason homeowners weren't happy with the result was they didn't think it looked good.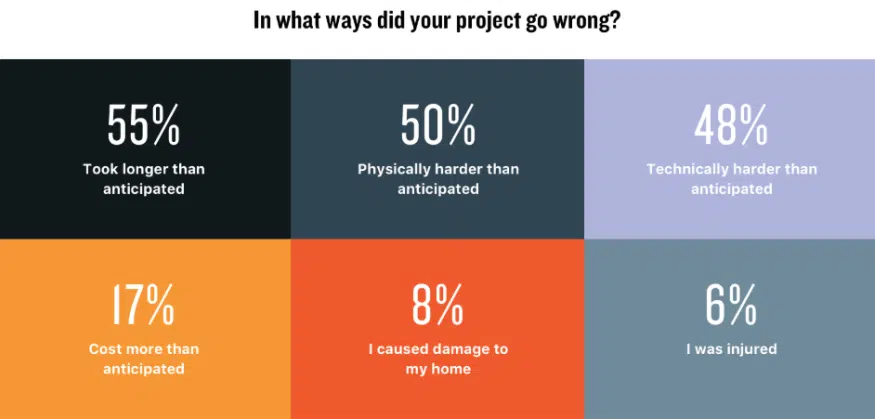 To be honest, we aren't really surprised by the results of this study. With all the resources available (ie: How To videos of YouTube), we can see how some improvement projects seem to look fairly easy to do and won't take very long to complete. So why not save yourself the money and do-it-yourself? Instructional videos are great, but can be somewhat deceiving because generally speaking, the person making the video is experienced and knows exactly what to do and has the proper equipment to do so. When you're learning a new skill, there is bound to be a learning curve; resulting in the project taking longer and maybe not turning out exactly how you envisioned. We've been called many times to fix or finish a DIY home improvement project. If it's happened to you, don't worry…you are not alone. Kudos to all those who have successfully completed a DIY project! If DIY isn't for you, contact us — we're happy to help with your home improvement needs.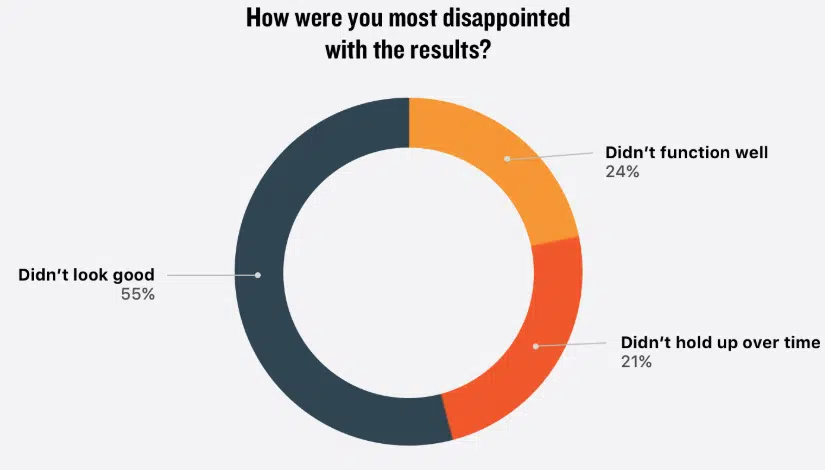 Dangers of DIY
Porch.com posted this article about the dangers of DIY and the most dangerous tools in America. Their findings indicate the who, what, where, why of home improvement injuries. Data from NEISS, revealed the ladder is the most dangerous home improvement tool, resulting in almost 200,000 emergency room visits per year and killing 300 people annually. Hardware such as nails and screws came in second with 124,000 ER visits.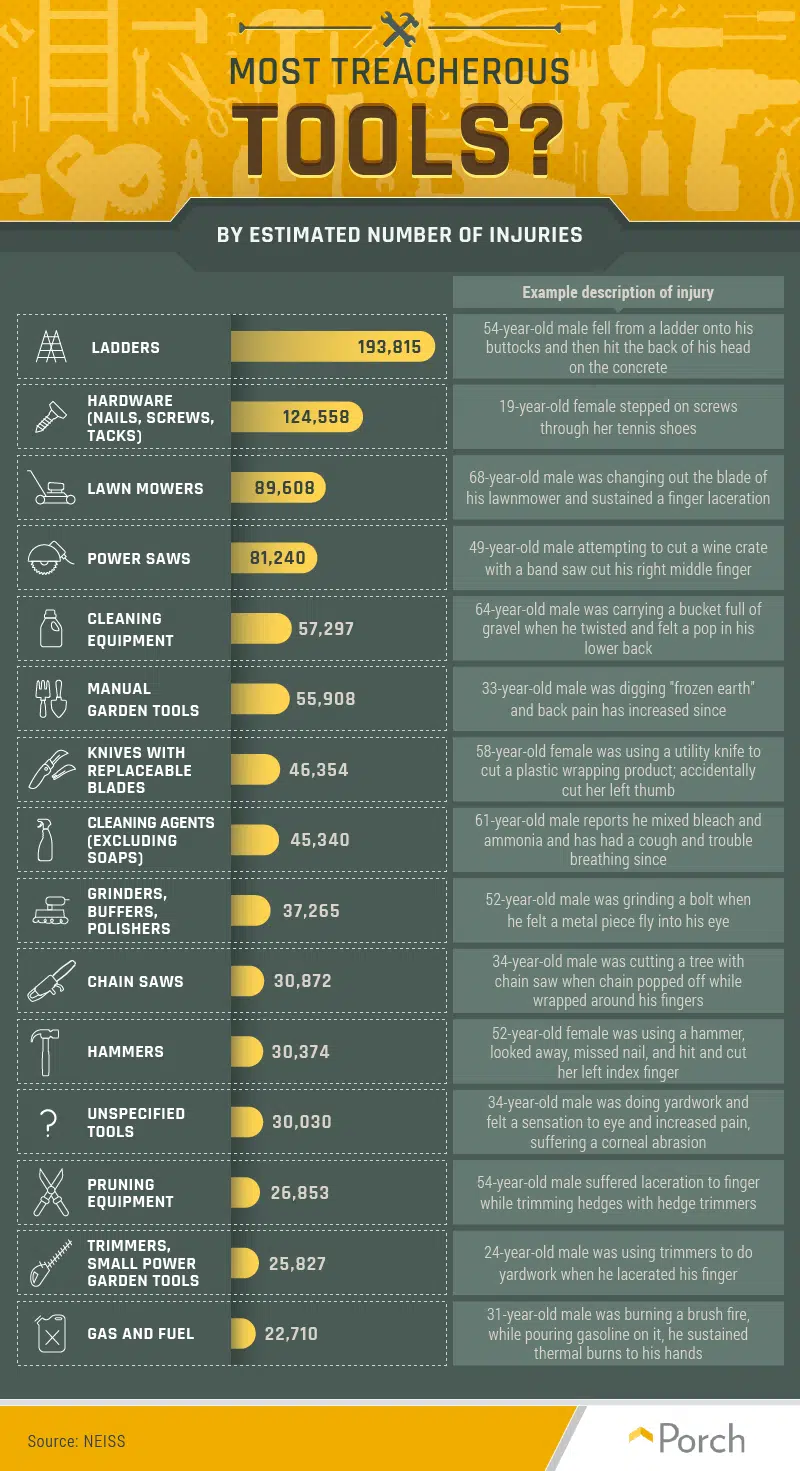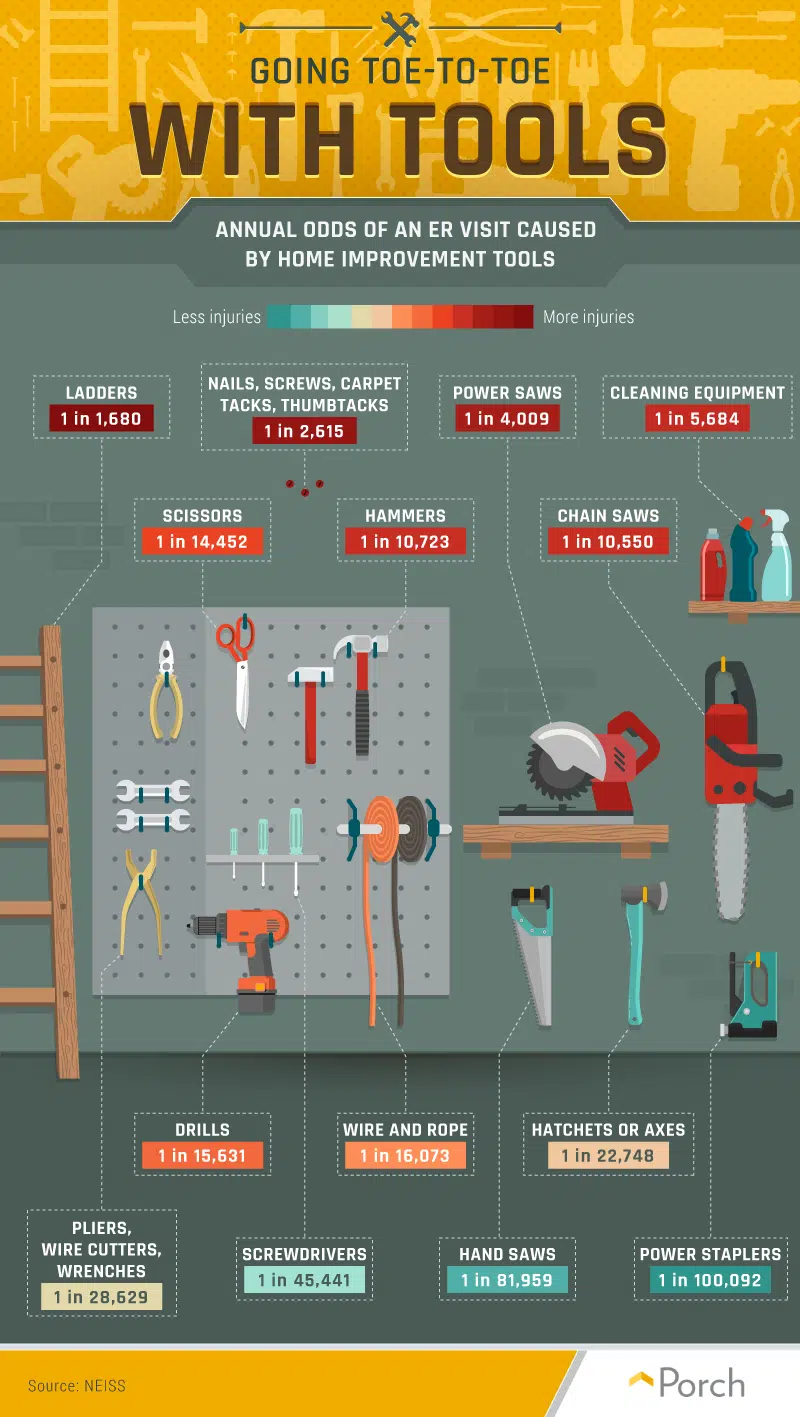 The Porch analysis found fingers were the most common body part to be injured, caused by table or bench saws. Feet accounted for many injuries as well; likely from stepping on nails, screws, tacks, which can happen long after the project is complete. Men between the age of 50 and 59 were the most at risk for home repair-related ER visits. Sadly over 40,000 injuries occurred among kids four and younger.
This information is a good reminder to put safety first when working on home improvement projects. Many accidents and injuries can be prevented. Here's some safety tips when working with tools:
Wear the proper protective equipment
Keep your fingers far away from saw blades or anything sharp
Watch your footing on ladders and select the correct ladder for the task
Use the proper tool for the task
Materials should be kept secure and out of children's reach
Wear good shoes (preferrably safety toe) and not loose fitting clothing