Governor Mark Dayton officially proclaimed October Careers in Construction month! It is exciting to have our industry in the spotlight — showing appreciation for the construction workforce as well as increasing awareness of the opportunities available. While we may be a little bias, we think a career in construction is a great, life-long and rewarding choice. We are always happy to provide advice, information or answer questions about construction careers. Feel free to contact us.
In the event you haven't heard, there is a skilled labor shortage. Dale Gruber Construction is involved in many efforts to promote careers in construction. You can help too!
Donate to CMBA Tools for Schools!
The Central Minnesota Builders Association (CMBA) Tools for Schools supports local schools by providing tools, supplies, grants, etc. to further enhance learning opportunities for students. Contributing to the CMBA Tools for Schools fund is easy, tax deductible (it's a 501c) and incredibly impactful. Even a little donation goes a long ways. DONATE HERE! CMBA is committed to match your donation up to $20,000. It's a valuable investment in our youth; our future workforce.
Check out this awesome success story with Sauk Rapids industrial tech shop. CLICK HERE. It's amazing to see what can be accomplished when we all work together.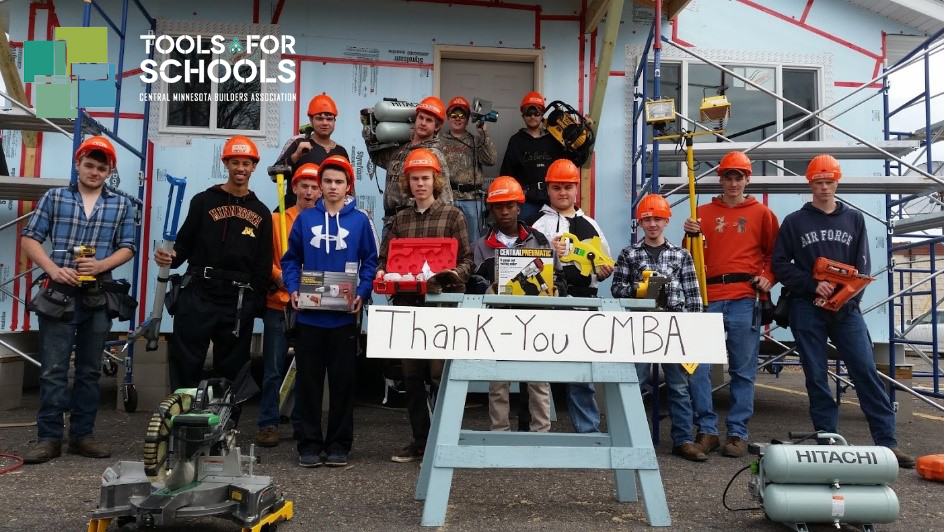 Thank you, Educators!
DGC would like to give a special shout out to all the area industrial tech teachers. We appreciate you planting the seed, getting your students excited about carpentry & exposing them to trade careers.
Michael Rien – Albany High School
Mark Weimer – Apollo High School
Dave Masters – ALC McKinley
Jeff Zimmer – Becker High School
Tyler Warren – Eden Valley Watkins High School
Brian Kemmy – Foley High School
Gerry Bahe – Kimball Area High School
Eric LeBlanc – Little Falls Community Schools
Alan Walz – Melrose High School
Sara Laudenbach – North Jr. High
Warren Christie – Rocori High School
Nick Phillips – Sartell High School
Jake Masters – Sauk Rapids High School
Joel Rieffer – Swanville High School
Michael Stadther – Tech High School
Gretchen Schleper – Upsala Area Schools
Kids Build Programs
As they say, start 'em young. There are two great kids build programs available to introduce kids to the building industry — the annual Kids Build seminar at the CMBA HomeShow in March and St. Cloud Community Ed regularly offers kids build courses. Check them out and spread the word – sponsorship opportunities available for both, contact CMBA. It is cute to see the kids so proud of what they built.

More About Construction Careers
Project Build MN — good site with information about construction careers & job postings