When it comes to siding products, there are many options from which to select. One siding product we highly recommend is LP SmartSide. LP SmartSide Siding is an engineered wood siding and trim product that combines durability, beauty and versatility to complement the style of almost any home. Learn more about LP SmartSide Siding and it's benefits.
How is LP SmartSide Made?
Home Check Plus had the privilege of touring the LP SmartSide facility in Two Harbors. It was fascinating to see the process from start to finish. LP SmartSide Siding is created by treating wood fibers or strands with resin binders, waxes and zinc borate and then bonded with a water-resistant, resin saturated overlay. The end product is an engineered siding that looks and feels like real wood siding, but provides better durability and performance.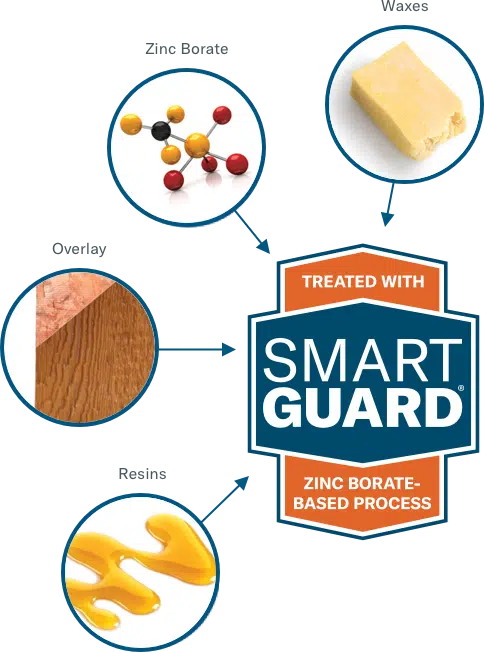 Why Choose LP SmartSide Siding
Excellent Resistance & Durability
LP SmartSide Siding is built to last and withstand impact from airborne debris and everyday bumps as well as high humidity, freeze/thaws, and extreme temperatures.
Low Maintenance
Being resistant to contracting and expanding, LP SmartSide products require less maintenance than other siding options. All they need is an occasional cleaning to maintain their great appearance.
Easy Installation
LP SmartSide boards are easy to work with because they are long, lightweight and knot-free. They can be easily cut with standard woodworking tools and thus, enable to get the job done fast.
Custom Beauty
They offer a complete line of high-performance products to complement almost any building style. LP SmartSide product options include lap siding (cedar texture or smooth finish), trim & fascia, shakes & shingles and panels & vertical siding.
Color Options
LP SmartSide Siding can be pre-finished with a stock color or pre-primed and ready to paint.
Warranty
LP products come with an industry leading 5/50-year limited warranty. The warranty can be transferred to the next homeowner.
Environmentally Friendly
LP SmartSide produces minimal waste during the manufacturing process. The company uses fiber sourcing system and SFI-certified wood. All this means that the wood comes from well-maintained forests. LP also works with raw material suppliers to create bio-based waxes and resins that will help to reduce dependency on fossil fuels.
HCP is an LP BuildSmart Preferred Contractor
Home Check Plus is proud to be an LP BuildSmart Preferred Contractor. We are trained and experienced to properly install LP SmartSide Siding products on your home.
Contact us if you would like to get a quote on replacing your siding! We'd be happy to work with you. 
Wondering if your home needs new siding? Click here!