– Residential New Construction

Project –
RESIDENTIAL | GENERAL CONTRACTING | NEW CONSTRUCTION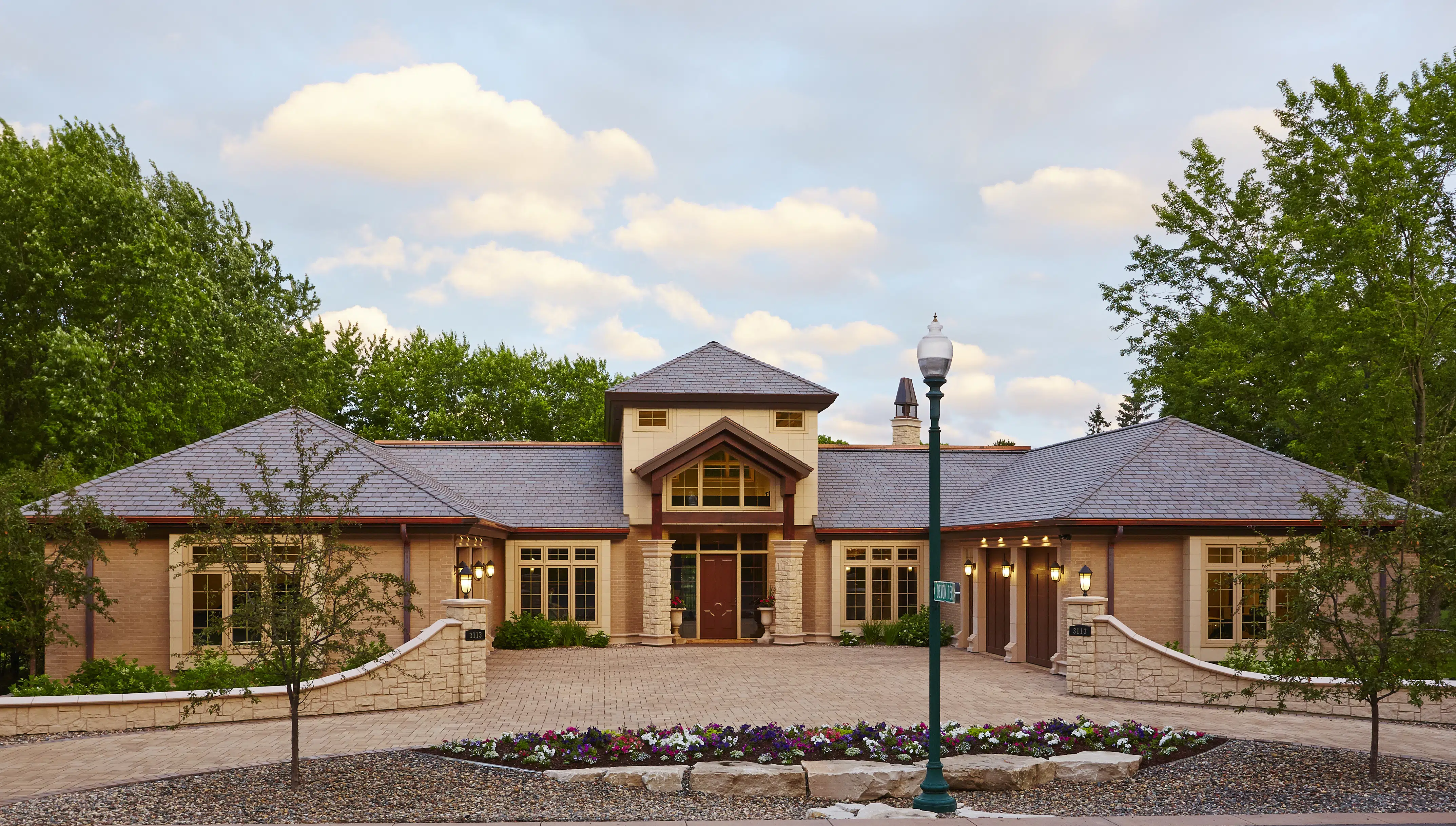 Our Work
A testament to our commitment to building long-term relationships, Dale Gruber Construction had worked with this client on many construction and remodeling projects over the years. In 2014, the client again reached out to the Dale Gruber Construction team to build their dream retirement home on a lot in the St. Cloud Country Club neighborhood.
Quick Facts
Project Size:

9,500 sq. ft. single-story walk-out with 4-stall garage

Market:

Residential

Partners:

Mark Suess Design, interior design.
Services Provided: Design-build, remodeling
Comprehensively Custom
The design of this stately home reflects the homeowner's lifestyle and passions, showcasing their artwork, supporting their love of entertaining, and highlighting the property's views of the golf course. The residence is completely custom from top to bottom. High-end finishes — from leather wall coverings to crystal rhinestones to custom molding — quality craftsmanship, smart home technology, and energy-efficient materials were used throughout, making this an estate-style home designed and built to last for many lifetimes to come.
Expert Craftsmanship
With so much of the design relying on custom elements and materials sourced from abroad, there was little room for error. As such, it was important for Dale Gruber Construction to work with highly-skilled carpenters, craftsmen, and trade personnel to ensure that every element of the design was implemented with precision and fidelity. Working with dedicated professionals also helped Dale Gruber Construction maintain a zero-injury jobsite. Ultimately, the result was a bespoke luxury home and a client who truly loved their residence for the first time in their life!
Substance & Style
Dale Gruber Construction designed the residence to maximize usage of the lot and include all the rooms desired by the client within the 9,500 square foot allowance. The layout includes main floor living spaces and room for guests, an expansive entry area ideal for entertaining, and a hidden four-stall heated garage with a front courtyard. Our team partnered with Mark Suess Designs on the interior to create a home that is a perfect balance of elegance and comfort. 
Challenges Overcome
Being that Dale Gruber Construction maximized the size of residence allowed on the lot, there was minimal space left over for crews to work on building the house. Creative solutions to optimize working space were necessary to keep the project moving forward. A temporary floor was built to help crews more easily reach the 24-foot ceiling, clearstory windows, and detailed crystal wall coverings in the front entry area. In order to create and install the 45-foot long clearstory wall, Dale Gruber Construction built the entire wall on a platform, then lifted it and secured it in place with the help of many crew members. 
The Dale Gruber Construction team broke ground on this project in early winter, which required the use of hundreds of insulated blankets to protect the ground from freezing while site work was completed. The client was vacationing for the entire duration of the project, so regular communication was paramount to keep them updated. The Dale Gruber Construction team was grateful to have so much trust placed in us during this project, and were eager to live up to the honor!

Ready to build?
Contact us today with your project details to get started!