Deck season is finally here! This weather is great for spending time on a deck, whether it is grilling, entertaining or just relaxing. When most people are thinking about adding a deck to their house, the material of the deck itself is usually what comes to mind first. However, the railing material is also something to consider. We've built many beautiful decks using a variety of different railing systems. Check out a few of them below.
Aluminum Posts & Spindles
Aluminum railing systems, whether custom made or otherwise are a popular choice. Aluminum is very resistant to weather elements, maintenance free and there are many designs and colors options to choose from.
Composite Posts & Spindles
Composite railing systems pair nicely with a composite deck. The look is very clean and classic. Composite decking material is also maintenace free and eco-friendly.
Composite Posts & Aluminum Spindles
If you can't declde between composite and aluminum, why not use both!? Composite deck railing systems have a variety color options, so you can select two accent colors. These posts have LED light caps to illuminate the deck once the sun has set.
Composite Posts & Glass Panels
Glass panels are nice for when you want minimal obstruction of the views from your deck. Great for scenic back yards or lake homes. They are also a good option for families with kidsas they won't attempt to jam their head or toys between the railings. Another benefit is they can help block any wind.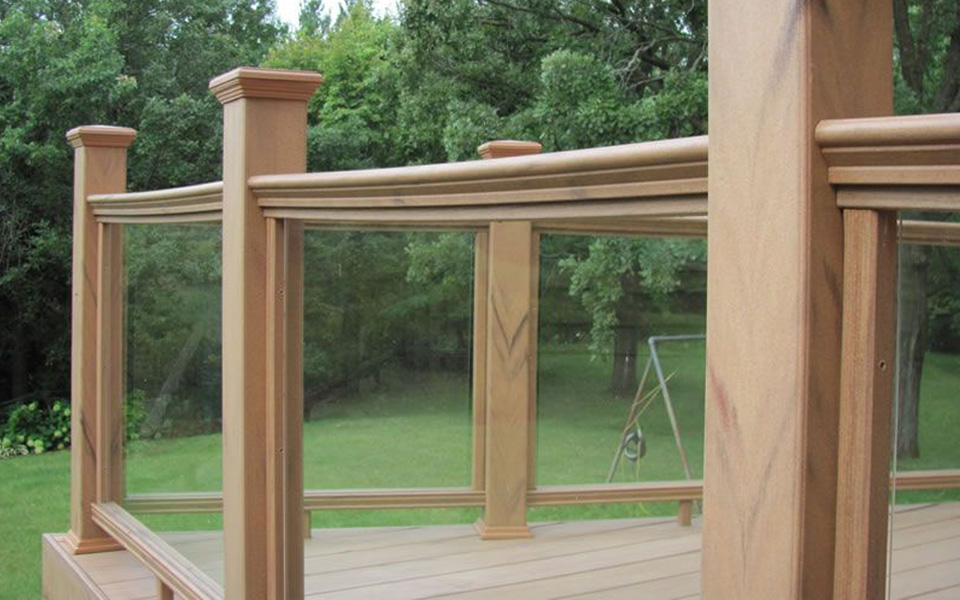 Ornate Aluminum Railing
This deck features an aluminum railing system with French Bastille spindles. A custom made railing allows you to be creative and can really add to the overall design of the deck.