– Liberty Bank –
COMMERCIAL | GENERAL CONTRACTING | Remodel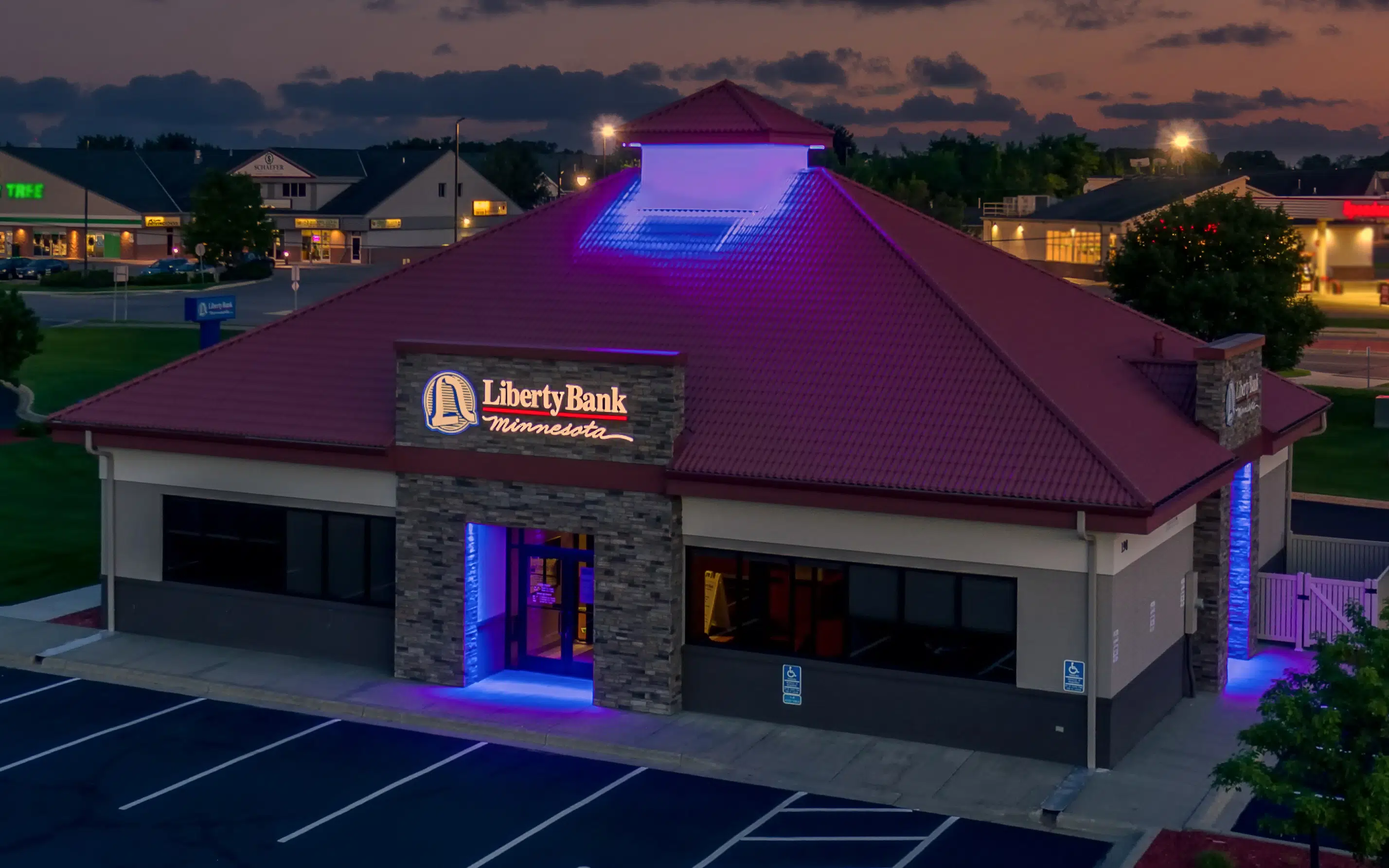 Our Work
Liberty Bank of Minnesota asked Dale Gruber Construction to remodel the brand's Sartell location. This exterior "facelift" included the addition of a cupola and a striking new metal roof. The Dale Gruber Construction team also built columns made of Versetta Stone, an innovative synthetic building material. The addition of blue LED lights established the bank as a focal point as you enter the city.
Quick Facts
Project Type: External improvement
Market: Commercial
Services Provided: General contracting, remodeling
Building Branding
The Dale Gruber Construction team had special LED lights custom-made in the brand's signature blue shade, calibrated for consistent color and vibrance throughout the entire beam of light. The lights draw the eye to the bank building and enhance the property's overall branding. 
To add texture and dimension to the bank's exterior, the Dale Gruber Construction team accented the stucco brick with Versetta Stone columns. Versetta Stone is an artisan-made, mortarless siding material that provides the true look of hand-laid stone walls with panels that offer virtually undetectable joints. Versetta Stone was the perfect choice to add a stately aesthetic to the bank's entrance.
Safety First
As often is the case in remodeling, we completed the work while the bank remained open, so minimizing disruptions was a priority. Maintaining a clean and organized job site —in addition to the professionalism of our crews—helped us accomplish this, in addition to strict adherence to safety best practices. Between scaffolding, lifts, crews working on a steep roof and an active driveway used by bank customers, there were many safety considerations to juggle at any given time. Clear communication and our commitment to ongoing employee safety training helped us execute this project without incident.
Moving Forward
Since completing the Sartell external improvement project, the client has chosen to remodel their Monticello location in a similar fashion. It's always an honor to be trusted by a client to complete multiple projects of different sizes, scopes and markets! 

Ready to build?
Contact us today with your project details to get started!