– City of Sartell –
COMMERCIAL | GENERAL CONTRACTING | DESIGN BUILD | REMODEL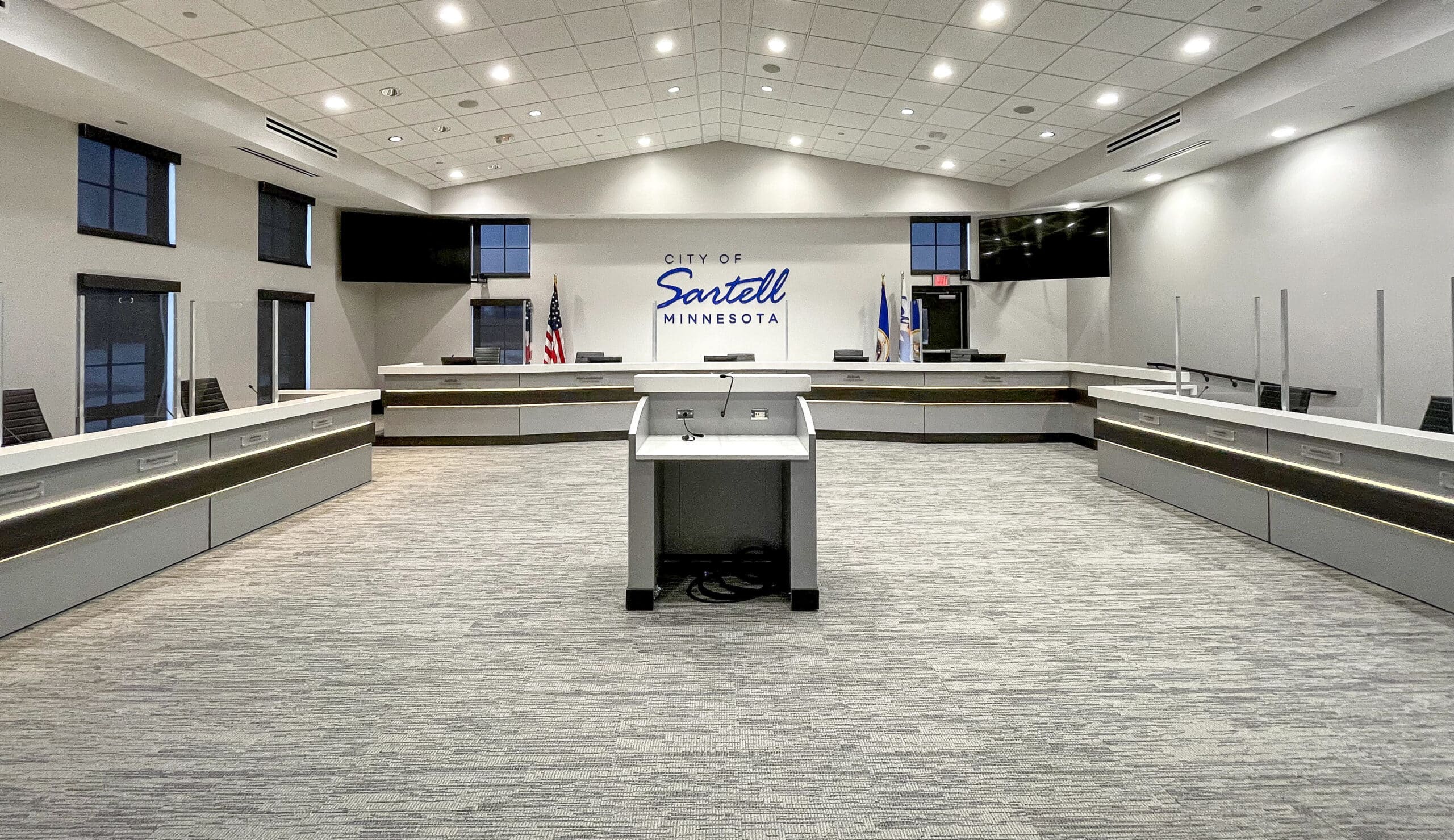 Our Work
Dale Gruber Construction was excited to work with the City of Sartell for the first time, designing and building a remodel of City Hall. In addition to updating the finishes of the City Council chambers, we reconfigured the space to improve overall operations, accommodate new design and safety guidelines, and enhance the overall experience of the City Council members, City Hall staff, and members of the public during the many meetings hosted in the space.
Quick Facts
Project Size:
Market: Government
Services Provided: General contracting, remodeling, design-build
Modern Meeting Space
To accommodate the dynamic needs of the City and the variety of meetings held in the space, Dale Gruber Construction built custom modular casework to match the newly relocated dais. LED accent lighting in the main entry, dais and throughout the chambers was placed with intention, allowing for the custom casework and City of Sartell logo to be showcased. 
This project also included technology upgrades for the chambers and main entrance, enabling City of Sartell staff to serve residents more efficiently and effectively. Security was the priority for the main entrance area, and the modifications made will help protect the safety of all who visit this newly-remodeled City Hall. Upgrades to the chambers' technology will allow for a better viewing experience of meeting broadcasts.
A Place for All
Dale Gruber Construction placed a special emphasis on the layout design of this remodel in order to comply with ADA and code requirements. Changing the location of the City Council chambers' dais made exit door accessibility problematic, but with teamwork and attention to detail, all the proper accommodations were incorporated. 
Experience-Focused
The Dale Gruber Construction team proudly met the tight deadlines of this civic project while staying flexible enough to implement any changes requested by the client. City Hall was able to stay open throughout construction, and it was an exciting opportunity for us to update and revitalize the space to better suit the growing needs of the City of Sartell. 

Ready to build?
Contact us today with your project details to get started!