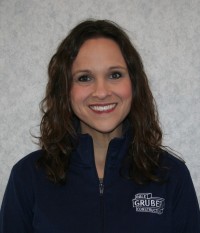 Marketing & HR Manager
Rachel has been working for Dale Gruber Construction since 2008.  She is responsible for all of our marketing, communications, advertising, website design & updates, business development, social media and company blog & newsletters. Rachel also handles our human resource duties including recruiting, interviewing, hiring and retaining employees. She is passionate about ensuring our clients and employees have a great experience with DGC.
Email: rachel@dalegruberconstruction.com
Education: University of St. Thomas
Accolades/Involvement: Chair of the Central Minnesota Builders Association Remodelers Council (2016 – 2017), CMBA Remodelers Council board member (2012 – present), Co-chair of Associated Builders and Contractors Business Development Committee.
Hobbies: Running marathons, live music, traveling, weekends at the cabin and spending time with friends & family
Favorite sweet treat: Grandma Gruber's caramel rolls
If you were an item in a desk, what would you be? Post-it Note