Now is a great time to replace your windows or doors and take advantage of the tax rebates available! Installing windows, doors and skylights that earn the ENERGY STAR save energy, improve comfort and help protect the environment…and you'll receive a tax credit.
Tax Credit Amount: 10% of the cost, up to $500; windows are capped at $200.
Requirements: Products must be ENERGY STAR certified.
You do not have to replace all the windows/doors/skylights in your home to qualify. And it doesn't need to be a replacement either – installing a new window where there wasn't one previously (like in an addition) qualifies.
Tax credit does not include the cost of labor for installation.
10 Reasons to Replace Your Windows
Aside from receiving a tax credit, there are many other benefits to replacing your windows. Check out these 10 Reasons to Replace Your Windows…
1. Decreased Utility Costs. Many older homes have the original windows built with single-pane glass or older-type dual pane. Replacing aging and drafty windows with tight fitting and energy efficient windows can significantly reduce energy bills. New windows offer heat reflecting low-E coatings and argon filled glass. Homeowners can expect to save 10-25% each year on heating and cooling costs.
2. Environmental Impacts. Not only do energy efficient windows reduce your energy bills, but they also reduce your home's carbon footprint. It pays to go green!
3. Increased Curb Appeal. New windows can really enhance your home's curb appeal. There are a wide variety of style options available that are aesthetically pleasing and will complement your home's architectural style.
4. Fade Protection. The sun's ultraviolet rays are powerful and cause furniture, artwork, carpet and finishes to fade. Newer windows are constructed with glass to help block ultraviolet rays to prevent fading from the sun.
5. Reduce Noise. Replacing your single-pane windows with dual pane or laminated glass along with better weatherstripping will reduce the amount of outside noise you can hear inside your home.
6. Eliminate Storm Windows. No more dealing with storm windows! Enough said.
7. Clean Windows With Ease. The design of new windows make it incredibly easier & safer to clean.
8. Increase Safety. Speaking of safety, having windows that are easy to open and close is important, especially in the event of a fire.
9. Reduce Water & Air Leaks. Older windows are more susceptible to issues caused by rain and other weather related elements. Leaking windows can lead to water damage, mold and mildew.
10. Less Maintenance. Replacing your old windows can reduce maintenance and the costs involved in doing so (ie: painting).
If you're considering replacing your windows, we'd love the opportunity to provide you an estimate to do so. During our site visit we can determine the best window option for you based on your needs, home's architecture and budget. Our staff is skilled in measuring your windows to ensure proper fit as well as installing windows, so they perform as intended and you can reap all the above benefits.
CALL US (320-529-4800) or EMAIL (rachel@dalegruberconstruction.com) today to get an estimate!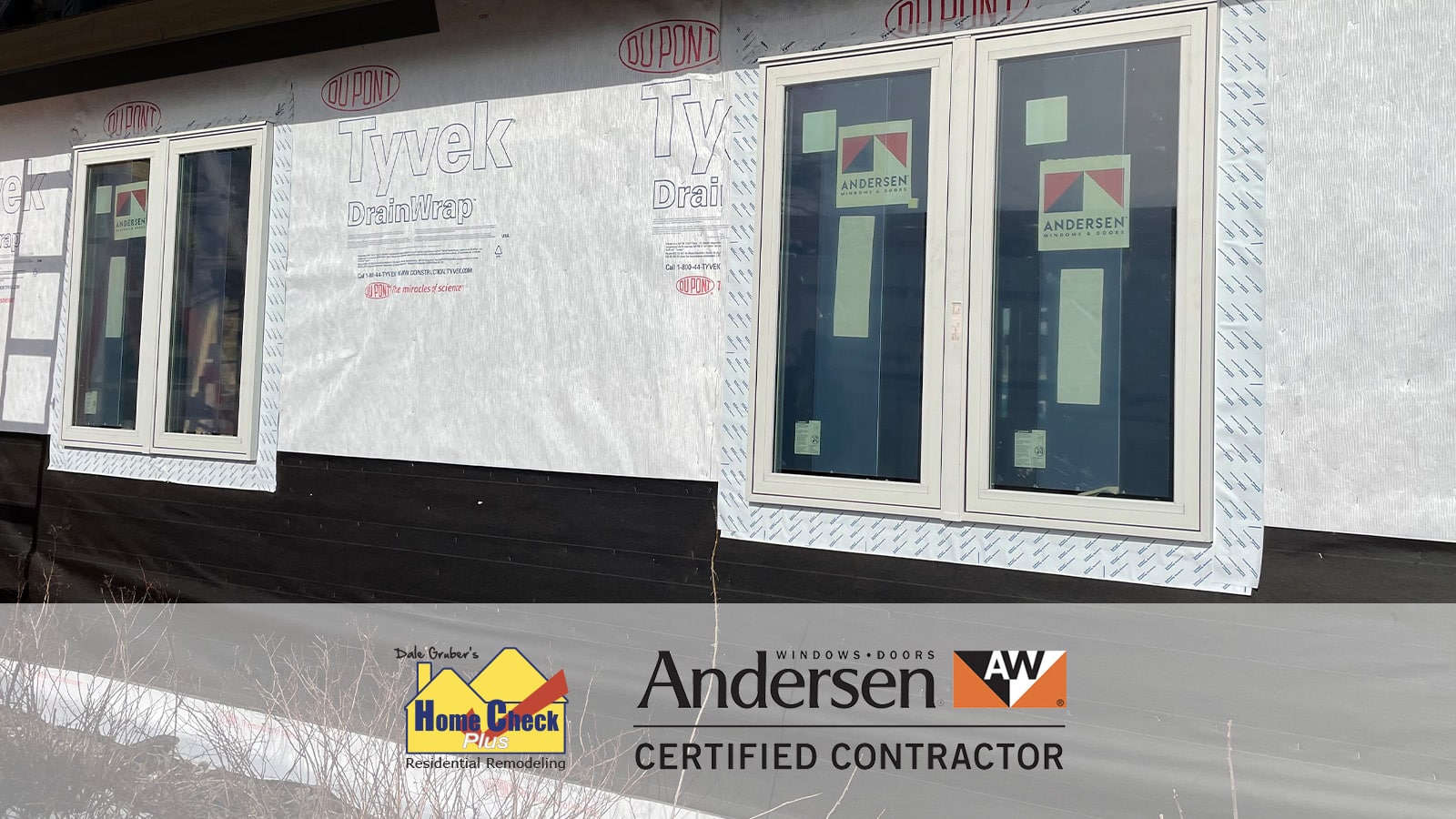 HCP – Andersen Certified Contractor
Choosing the right window contractor is one of the most important aspects of a window purchase. A proper installation is critical to the proper performance of the product. Home Check Plus is a Certified Contractor of Andersen Windows & Doors. CONTACT US.